Spray Foam Insulation Services in NJ
Improve the comfort of your home year round with spray foam insulation for Howell, Brick, Toms River, Asbury Park & Middletown homeowners
Spray foam insulation is a state-of-the-art insulation product that dramatically improves a buildings thermal performance. With a superior R-value (thermal resistance) and unmatched air sealing capabilities, spray foam reduces air leakage while providing the best thermal performance of any insulation product on the market.
Dr. Energy Saver a division of DH Services Group, Inc. offers open cell spray foam and closed cell spray foam insulation for homes, commercial buildings & multi-family residential units all throughout the Jersey Shore region.
What Are The Benefits of Spray Foam Insulation?
Spray foam insulation is very quick to apply and easy to use in any area of the house. Because spray foam is so simple to apply, it is our top insulation service. When we talk to homeowners about their issues, the most common problem is high energy costs and discomfort in their house. Spray foam helps lower home energy costs up to 30% and there was an immediate change in how much more comfortable the home is. Spray foam is a very efficient type of insulation and we highly recommend it!
High R-Value
Spray polyurethane foam has an approximate R-value 6 per inch of installed insulation, making it one of the highest performing insulation products on the market. This means that your building will be warmer and less drafty, even in conventionally framed construction.
Air Sealing
Spray polyurethane foam fills all the cracks and gaps within the cavities that it fills, avoiding the common problem of air leakage that plagues other types of insulation materials, such as fiberglass batts. This reduces drafts and prevents infiltration of moisture and harmful gases entering the home.
Reduces Moisture and Mold
Because of the superior air sealing properties of SPF (spray polyurethane foam), moisture is less likely to enter your building once it's been insulated with spray foam. This reduces the risk of mold, as well as the risks of rot and structural damage that accompany water infiltration.
Open Cell Foam and Closed Cell Foam
Not sure which spray foam insulation to choose? We offer both open cell and closed cell spray foam products. Closed cell foam insulation provides a superior air and moisture barrier, making it the most effective insulation available for energy performance. Open cell spray foam is a more affordable option that still provides an air sealing capacity and a R-value that supercedes nearly every other insulation product on the market.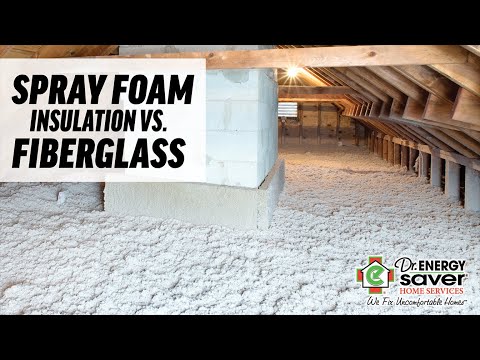 Spray Foam Insulation vs. Fiberglass
For many decades, the material of choice to insulate homes has been fiberglass. Blown fiberglass is used for...
Watch Video
Related Videos
Contact us for spray foam insulation in your home
Dr. Energy Saver a division of DH Services Group, Inc. proudly services the areas of Holmdel, Colts Neck, Rumson, Middletown, Howell, Brick, Manasquan and surrounding areas. If you are interested in spray foam insulation for your home, call us today at 1-844-276-3824 for a free estimate!
Looking for a price? Get a no cost, no obligation free estimate.