Dehumidification in Jersey Shore
Control humidity and improve your home's indoor air quality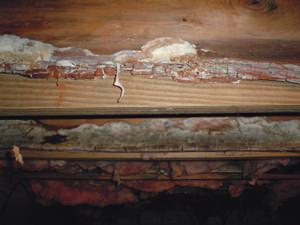 Mold loves moisture. When wood and other organic materials remain damp because of high humidity, they create an ideal mold habitat. A dehumidifier can protect against mold growth.
At Dave Hoh's Home Comfort & Energy Experts, we pride ourselves on our cutting-edge below-grade dehumidifier systems. Our warrantied SaniDry Sedona is rated for energy efficiency and powerful enough to keep dry air circulating throughout the area. A dry, healthy crawl space or basement will create a healthy home. Improve indoor air quality from the ground up with the SaniDry Sedona dehumidifier.
Contact us today for more information and a free estimate for dehumidifier installation in Holmdel, Colts Neck, Rumson, Middletown, Howell, Brick, Manasquan or nearby.
Why install a dehumidifier in your basement or crawl space?
Basements and crawl spaces are below-grade areas where high humidity can cause numerous problems. Moisture that saturates "fluffy" insulation like cellulose or fiberglass batts will dramatically diminish the insulation's R-value and adversely affect energy efficiency. Moisture also helps to promote mold growth on organic materials like wood, paper, and even some types of paint. Mold spreads through airborne spores. These microscopic organisms pose a serious health hazard. Musty odors and mold stains are telltale signs of excess moisture promoting mold growth.
Excess moisture can shorten the life of building components. Screws, sheet metal, and other steel elements rust and deteriorate, while wood can succumb to rot, threatening the structural integrity of a building. Termites, powder post beetles, and other pests love wood with high moisture content.
How do we solve humidity problems in your home?
We offer a high-performance dehumidifier and air purifier option for New Jersey homes.
Most energy experts will be able to identify the need to dehumidify a basement or home to solve moisture problems. But as a Dr. Energy Saver dealer, Dave Hoh's Home Comfort & Energy Experts has access to industry-leading moisture control and dehumidification systems, such as basement and crawl space dehumidifiers.
An effective moisture-control strategy in basements and crawl spaces will likely incorporate air-sealing, insulation improvements, and dehumidification. This integrated strategy provides several benefits beyond moisture control: improved energy efficiency, healthier air quality, and a cleaner, better-looking space.
Don't wait to improve your indoor air quality!
Call us today to learn more about our air conditioning services in New Jersey, and to schedule an estimate for dehumidification services in Asbury Park, Neptune, Toms River, Fair Haven, Lincroft, Little Silver, Oakhurst and surrounding areas!
We also provide home energy audits to diagnose all energy problems and sources of discomfort within your home.
Looking for a price? Get a no cost, no obligation free estimate.