The Best Dehumidifiers Installed Throughout Jersey Shore
Keep your basement dry & improve indoor air quality
Dehumidification is often part of an overall strategy to improve a home's energy efficiency, indoor air quality and durability. Removing moisture from "damp" air in a basement or crawl space can help insulation function more effectively while also helping to prevent mold, wood rot and metal corrosion. This system will create better indoor air quality and a healthier home!
How do dehumidifiers work?
A dehumidifier works according to the principle that air's ability to hold moisture (humidity) diminishes as air temperature drops. This principle explains why an ice-cold glass of water "sweats" moisture on a hot day.
In a dehumidifier, a fan blows humid air across a metal coil assembly that is filled with cold refrigerant –the same compound that is used in air conditioners and refrigerators. When the air meets the cold coil surface, water condenses out of the air and drips off the coils onto a reservoir that's built into the dehumidifier.
Watch this video to find out how a dehumidifier can get rid of the musty smell and damp feeling in your basement and why the SaniDry Sedona is the best dehumidifier for basements or crawl spaces!
Why install a SaniDry Sedona?
The SaniDry Sedona is the world's most efficient, high-performance dehumidifier and filtration system, without a bulky heat exchange core. With its small size, it takes up less space in a basement and easily fits in small crawl spaces.
Benefits: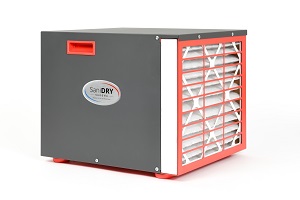 SaniDry Sedona Efficient Dehumidifier
Eliminates damp, musty odors by drying and filtering air
It costs less to run than other dehumidifiers
Filters mold spores, dust mite droppings, dust, and other particles
Set it and forget it - Sedona does the rest with automatic drainage and humidity sensing
System features:
Removes up to 95 pints of water per day
Moves over 300 cubic feet of dry air per minute
Can be ducted
Are you considering installing a dehumidifier in your basement or crawl space? Contact Dave Hoh's Home Comfort & Energy Experts today for more information and a No-Obligation, No-Risk, Free Estimate in Holmdel, Colts Neck, Rumson, Asbury Park, Neptune, Toms River, Fair Haven, Lincroft, Little Silver, Oakhurst, and more! We are the trusted local authority in energy savings and home comfort.
Looking for a price? Get a no cost, no obligation free estimate.