High-efficiency Heat Pumps Near Rumson, Holmdel, Manasquan, Middletown, Howell, Brick, Colts Neck
Cut down your electric bill and make your home more comfortable with a high-efficiency heat pump.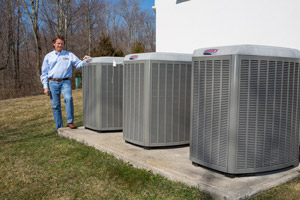 What's in a name?
A heat pump does what its name suggests: It "pumps" heat from one location to another. Most heat pumps are equipped with reversing valves that enable them to provide both heating and cooling.
Heat pumps require electricity to operate, and New Jersey residents pay more for electricity than most other U.S. citizens.
That's why many New Jersey homeowners are choosing to replace older heat pumps with new, high-efficiency units.
Upgrading to a new, super-efficient heat pump can save you hundreds of dollars a year, while bringing you other benefits as well.
Heat Pump Types
An air-source uses exterior air temperature as a heat source or heat sink.
A ground-source or geothermal heat pump utilizes the stable temperature of the earth at depths beyond 6ft.
A ductless mini-split heat pump is an air-source model designed to heat just 1-3 rooms.
Heat pumps can save you money on your next electric bill
A heat pumps main purpose is to extract heat from the air (either indoor or outdoor) to heat or cool a home. Even when temperatures drop very low during the frigid winters, heat pumps are still efficient at drawing the heat to the interior of your home to keep it warm and comfortable. In addition to extracting heat energy from the outside in, the heat pump also extracts heat from the inside of your home to the outside. This process keeps your home cool and comfortable during the summer.
Heat pumps have become very popular over recent years due to their high efficiency ratings and environmentally friendly benefits. If you are shopping around for a heat pump system, give Dr. Energy Saver by DH Services Group, Inc. a call for a home energy evaluation and Free Estimate on installation in Holmdel, Colts Neck, Rumson, Middletown, Howell, Brick, Manasquan, Asbury Park, Neptune, Toms River, Fair Haven, Lincroft, Little Silver, Oakhurst, and the surrounding Jersey Shore.
Contact Us for a Heat Pump Quote Today!
High-efficiency heat pumps: more than twice as efficient as older models
Even in perfect condition, an older heat pump may be operating at a SEER (seasonal energy efficiency rating) of just 6-8. A new, high-efficiency heat pump will have an efficiency (SEER) rating of 19-20 -two to three times more efficient!
Check out some of the advanced features found in today's high-performance heat pumps:
Don't forget the ductwork!
Leaky, poorly insulated ducts will cut heat pump efficiency by 20% or more. An imbalanced ductwork system will cause some rooms to be too cold and others to be too hot.
Make sure to have Dave Hoh's Home Comfort & Energy Experts check your ductwork system for these common but easily repairable problems.
Taller exterior profile for improved air circulation and heat exchange.
Quieter performance.
2-speed compressor for energy efficiency.
Variable-speed blower for improved comfort and energy performance.
Superior humidity control.
Water heating capability to dramatically cut water heating costs (and eliminate the need for a separate water heater).
Looking for a price? Get a no cost, no obligation free estimate.