Should I Repair or Replace my HVAC System Near Holmdel, Colts Neck, Rumson, Middletown, Howell, Brick, Manasquan?
Make your home more comfortable and less costly to heat and cool with expert help from Dr. Energy Saver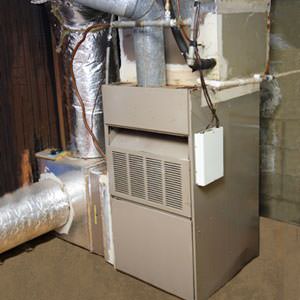 Don't blame the furnace. Older HVAC equipment isn't as efficient as new equipment, but it may not be the major factor in high heating & cooling costs. If a house has too many air leaks and too little insulation, even a new, high-efficiency furnace will have to work overtime to maintain comfortable temperatures.
In this era of rising energy costs, many homeowners are taking a closer look at the cost of heating and cooling their home.
If you have a furnace, boiler or heat pump that's more than 10 years old, you're probably faced with an important question: "Do I continue to maintain and repair my existing HVAC system, or is it time for replacement?" Our mission is to help homeowners enjoy more comfort and healthfulness in their homes, while paying less on monthly utility bills.
Our solutions to comfort and energy problems are based on expert diagnosis, and on proven principles of building science -the study of how different systems in a house perform and interact. We'll evaluate not just your HVAC equipment, but also all the features and conditions that affect HVAC system performance.
Two affordable upgrades to complete BEFORE replacing your HVAC system
Before you commit to the major expense of replacing HVAC equipment, it makes good sense to invest in two affordable, cost-effective upgrades.
These permanent, once-and-done improvements help ensure that any HVAC system (new or old) will perform at peak efficiency.
Seal & insulate your ductwork system
We DETECT & CORRECT comfort and energy problems!
Dave Hoh's Home Comfort & Energy Experts is a full-service home comfort and energy contractor. We provide energy assessments and thorough inspections of critical building elements like insulation, windows, ductwork and HVAC equipment.
Based on prioritized recommendations, homeowners can then hire our energy technicians to make selected upgrades and repairs to dramatically improve home comfort and energy efficiency.
Even a new, high-efficiency HVAC system will perform poorly if it's connected to a ductwork system plagued by leaks and inadequate insulation. Tests have shown that leaky ductwork can reduce HVAC system performance by as much as 30%. With leaky ducts, air that you've paid to heat or cool is lost to your attic, crawl space or basement before it gets to your living space.
This forces your HVAC system to work overtime in order to produce comfortable temperatures. Missing insulation or inadequate duct insulation is another common problem. It makes no sense to send heated air through unprotected ductwork in a frigid attic. Fortunately, Dave Hoh's Home Comfort & Energy Experts can detect and correct these ductwork problems so that your HVAC system can work properly.
Complete insulation and air sealing upgrades
Even though the Department of Energy recommends an attic insulation value of R-60 for New Jersey homes (about a 16-inch layer of cellulose insulation), many homes just have several inches of insulation -equivalent to R-19 or less. With so little insulation and so many air leaks in a home's "building envelope," no HVAC system can perform economically.
Using a proven "ABC" strategy (Attic, Basement, Conditioned space), Dave Hoh's Home Comfort & Energy Experts can upgrade insulation levels and seal energy-wasting air leaks in key parts of the house. When properly installed, these improvements can cut your heating and cooling costs nearly in half -even without replacing your HVAC system.
Get the most from new heating and cooling equipment!
If and when you do replace your HVAC equipment, the insulation and air sealing upgrades completed in step 2 will enable you to buy a downsized furnace, boiler or heat pump. Dave Hoh's Home Comfort & Energy Experts has access to the most advanced high-efficiency HVAC equipment available in the Holmdel, Colts Neck, Rumson, Middletown, Howell, Brick, Manasquan, Oakhurst, Lincroft, Toms River, Asbury Park, Neptune, Fair Haven, Little Silver and surrounding Jersey Shore area. Contact us today to get started!
Looking for a price? Get a no cost, no obligation free estimate.