How Can I Cut my Heating & Cooling Costs Near Holmdel, Colts Neck, Rumson, Middletown, Howell, Brick, Manasquan?
Wouldn't it be nice to enjoy higher comfort levels in your home, while paying lower utility bills? It's easier than you think.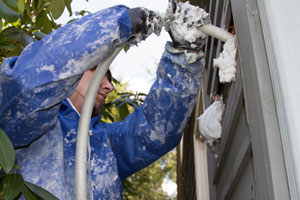 An HVAC system's best friend. Air sealing leaks and properly insulating the home is a proven strategy for lowering heating and cooling costs. Dr. Energy Saver has the most comprehensive selection of insulating and air sealing products in Jersey Shore.
According to ENERGY STAR®, nearly half of a typical household's total energy expenses go toward heating and cooling. That's well over $1000 per year to stay comfortable at home -and that cost can easily rise as electricity and fuel prices increase.
But it doesn't have to be that way. Instead of spending money to run your HVAC system, wouldn't you rather have extra money to spend on other things? If so, keep reading. Cutting your heating and cooling expenses by 40% or more (saving hundreds of dollars per year!) is not only an attainable goal; it's easier and more affordable than you may think.
If you want to learn more about how Dave Hoh's Home Comfort & Energy Experts can reduce your energy bills in Middletown, Rumson, Manasquan, Brick, Colts Neck, Howell, Holmdel and nearby, call us or click below to get started with a free estimate!
The first step will surprise you
It's logical to blame high heating and cooling costs on old, inefficient HVAC equipment. But this isn't the first place that building scientists look for energy savings. Instead, home energy experts usually recommend insulation and air sealing improvements first, along with repairs to the ductwork system.
Not even a new, super-efficient HVAC system can overcome the energy-wasting behavior of a leaky, poorly insulated house. The "building envelope" of an energy-efficient house should work like a down-filled jacket that's topped off with an airtight windbreaker. But most houses were built with air leaks everywhere and minimal amounts of insulation.
Fortunately, Dave Hoh's Home Comfort & Energy Experts has the tools, training and mission to detect and correct building envelope problems. We can show you how your home's insulation and airtightness levels compare with recommended benchmarks established by ENERGY STAR® and the Dept. of Energy. We can also check your ductwork system for three common ailments: leaks, inadequate insulation and imbalances.
Professionally installed heating and cooling upgrades pay for themselves
It's true: Without replacing your HVAC system, you can cut your heating and cooling costs by as much as 40%. But it's critical to install the right products in the right locations and in the right way. That's why you'll want Dr. Energy Saver to make these important upgrades. We have the most innovative products, the best-trained crews and a growing group of customers who love the work we do.
What's GREAT about insulation, air sealing and ductwork repairs?
Affordable. These improvements cost much less than an HVAC system replacement. In fact, they pay for themselves in energy savings faster than just about any other energy efficiency upgrade.
Once and done. Insulation, air sealing and ductwork repairs never require maintenance or replacement. They deliver savings 24/7 for the life of the house.
Doubled HVAC savings. Insulation, air sealing and ductwork repairs will make your existing HVAC system work much more efficiently. When you replace your HVAC system you save again, with downsized equipment based on your building envelope improvements.
Healthier home. These improvements eliminate many sources of mold, dust and unpleasant odors that can cause allergic reactions and respiratory ailments.
Improved resale value. Homes with "green" features like extra insulation and lower energy usage are increasingly valued by homebuyers.
Looking for a price? Get a no cost, no obligation free estimate.